FRISBEE GOLF
DISC GOLF ON LYDIA MOUNTAIN
Disc Golf (also called Frisbee Golf or sometimes Frolf) is a flying disc sport in which players throw a disc at a target; it is played using rules similar to golf. It is often played on a course of 9 or 18 holes. Players complete a hole by throwing a disc from a tee area toward a target, throwing again from the landing position of the disc until the target is reached. Usually, the number of throws a player uses to reach each target are tallied (often in relation to par), and players seek to complete each hole, and the course, in the lowest number of total throws.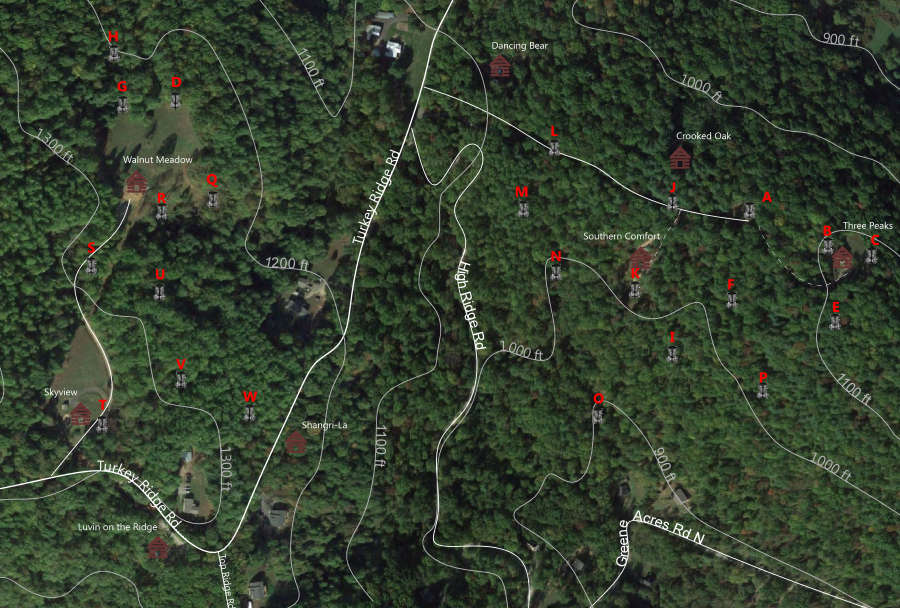 KEY POINTS OF SPOILED HIKE DISC GOLF COURSE
There are several aspects of Spoiled Hike that are worth mentioning at the outset.
Right now there are two main clusters: Ten baskets on the western side of Trukey Ridge Road, and another Thirteen on the eastern side. Although it is also heavily wooded, you can tell by looking at the satellite map that the western cluster has a lot more open space.
It's in the mountains, so there are lots of elevation changes. On the east side. the main exception is the top of the ridge. So, if you like level ground you have to accept a gravel road or driveway as a fairway.
I expect this to be low traffic course. The main consequence of that expectation is that most of the fairways are designed to operate bidirectionally. Also, tees and pins are often in close proximity. One of the reasons traffic must remain low is that there aren't that many places to park. Each cabin on the ridge has 2-3 parking places, but that's about it.
The course has a low profile. Markers are used to identify many tee positions, and some are hard to find without the map. However, in addition to the spots that are level already, there are many smallish (usually 4′ by 8′) tee pads that create a level platform to throw from.
COURSE HOURS
The course is open to inter-cabin traffic from 10 am – 5 pm. If a cabin appears to be occupied at other times, don't play there without permission from them. You can always play around your own cabin. Also, disc golfers are always welcome around Three Peaks. Although Spoiled Hike is a private course, other disc golfers may also play with permission –
ADDITIONAL LINKS
Tees and Pins: A list of the most attractive combinations currently possible. Most of these are found in one of the standard courses, but not all. If you would like to formulate your own course, this is a useful reference. If you come with something really good, send it to me and maybe I'll make a map.
Road Trips: A list of other nearby courses that you might want to try out.
NEED DISCS?
Stop by the Lydia Mountain Welcome Center to get your own disks for your spoiled hike adventure!
HEAR FROM OUR GUESTS
Patrick & Leann Spears, Ruckersville, VA
"Absolutely wonderful! A little piece of heaven… Your hospitality has been amazing! We couldn't have asked for more. I'm going to tell everyone I know about these cabins…"