PACKAGES
Here at Lydia, we are always looking for ways to enhance your stay with us. We hope that one of our packages or tours strikes your fancy.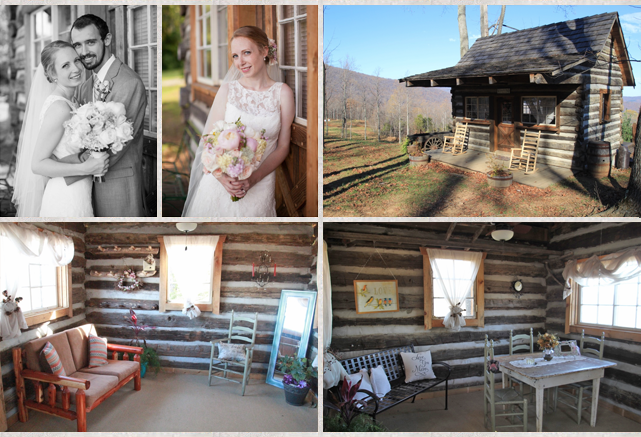 INtimate Wedding Package
Escape to LOVE! You love the idea of a mountaintop wedding day but the thought of a huge crowd is a little overwhelming? Book our lovely antique cabin at the overlook for the day, (10am-5pm). You, your beloved, and 15 of your closest companions can celebrate together, without the noise and pressure of a bigger event. Enjoy the laid-back atmosphere and let us take care of you so you can focus on the people most important to you to celebrate your day. Other options are available upon request. Add a stay in one of our cabins to the end of this package and you can start your honeymoon right away! Call (434) 985-6343 to book ahead and dont forget your wedding license! This package includes: Antique Cabin Rental, from 10AM-5PM, Up to 15 Celebrants

Proposal Package
Here's the truth, my friend. You only get one chance to pop the question. Everybody at Lydia loves the love, and we're here to help you set the scene. Imagine you down on one knee with the majesty of the Blue Ridge Mountains framing the moment. Do you ask during dinner? After? Dessert? We're thrilled for you. Let Lydia help. This package includes: A private and romantic dinner for two on the scenic Lydia Mountain Lodge deck, Two "DUKE" steak dinners (look on Bearrr Appetit Menu for details), Chef's choice dessert, Romantic table setting with flowers.

Ice Cream Party Package
A great party deserves GREAT ice cream, and the Sip Shack Ice Cream party has that and SO much MORE! Come and play the nation's newest outdoor party game "Sip 'n Toss" with all your friends while enjoying the best ice cream around! Great for birthdays, anniversaries & celebrations for kids of all ages! It's easy peasy and super close to the mountain. AND – Lydia will set up the whole thing! This package includes: Pond Patio for 2 Hours, A Hot Dog meal & Ice-Cream, Bounce House & Toss Golf, Available Monday-Friday, Ask about package pricing!

Sleepy Bear Breakfast
Gonna be arriving late and want the makings of breakfast in the fridge when you get to your cabin? Not everybody is a morning person. We get it, and would like to make it a little bit easier on you. Along with the coffee we provide in the cabin, this breakfast package is the perfect way to kick-start your day. This package includes: Milk, orange juice, 1 Dozen eggs, Country Jam Preserves, Butter, Country Sour Dough Bread, 4 Danish Pastries, Granola, And Seasonal Extras!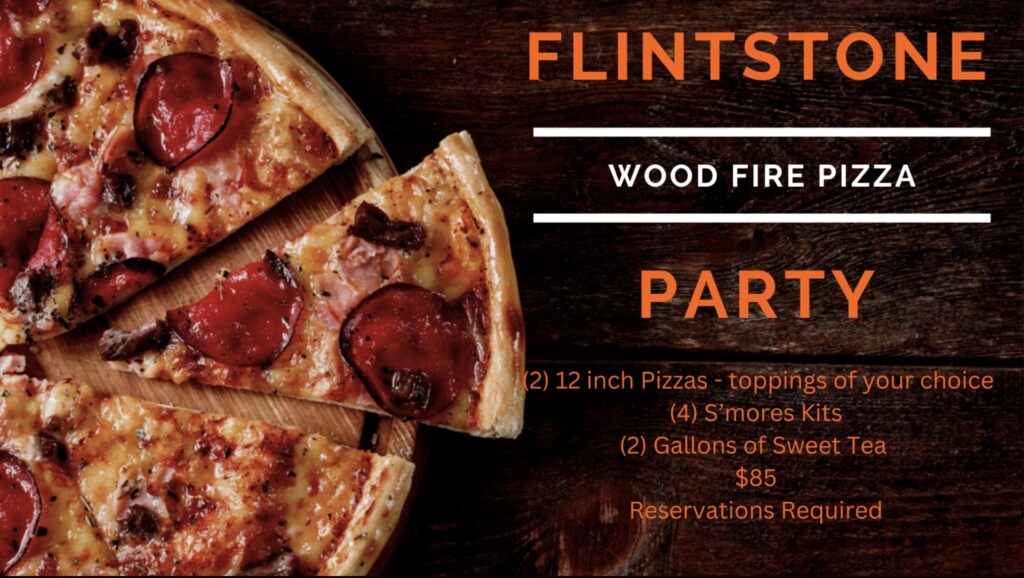 Flintstone Wood Fire Pizza
Come join us on Lydia Mountain at the Flintstone Pizza Patio ! Plan your pizza party with us and enjoy the beautiful Lydia Mountain Views.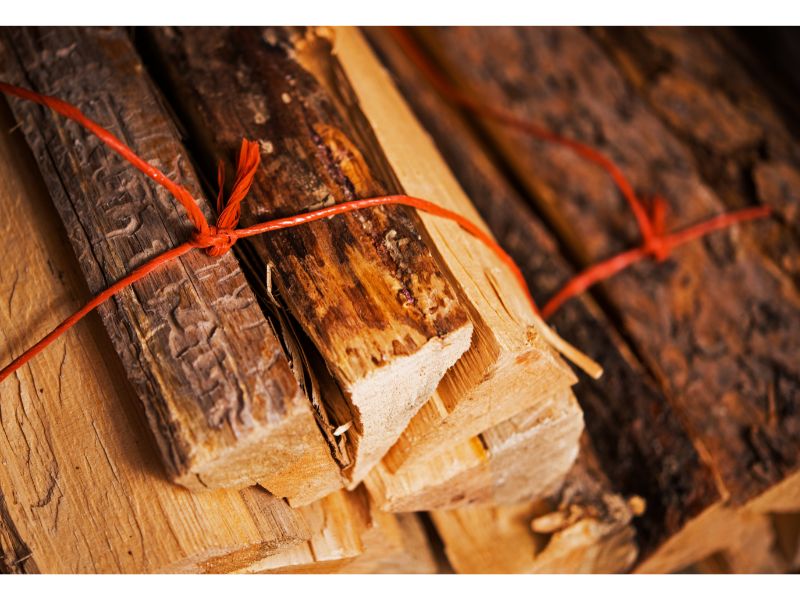 Bundle of Firewood
Whether you need firewood for your fireplace (Oct – April) or simply want a cozy fire in your outdoor fire pit ANYTIME of the year. Order bundles of firewood to be waiting on your front porch upon arrival. Run out? More can be purchased at the Lodge!
Wine not? Wine, Chocolate and Cheese Package
Let the decadence begin – it's wine time! Want to really get to know someone? Open up a bottle of Lydia's private labeled wine and suddenly everyone's laughing and relaxing. Make it a romantic picnic! You know, it's true what they say – at the bottom of every wine bottle is a great story! We pride ourselves on the perfect pairing of cheese, chocolate, crackers and seasonal fruit – leave it up to Lydia Carpe Vinum! (Sieze the wine!) This package includes: One bottle of Lydia's private labeled wine, (your choice of red, white, or sweet), Two Lydia wine glasses, Wisconsin Cheddar Cheese, Crackers, Seasonal Fruit, Gourmet Chocolate (2 Bars)
A Taste of Romance Package
How long has it been? A crackling fire and candlelight. Soft romantic music and a beautiful table adorned with Lydia's china. A three-course meal with your someone special. The scene, the table, and the mood are pre-set as you walk in. A sumptuous dinner and romance await you both! You care more than you can sometimes say. Take the extra step to show it. – It's Time for Just the Two of You! This package includes: Pre-lit Fire in Fireplace, Pre-lit Candles, Romantic Music Playing, 3 Course Meal, * This package does not currently include wine*, * Cuisine changes seasonally.

Mind & Body Elevation Group Yoga Package
Our Certified Yoga Instructor teaches a gentle meditative style of Hatha yoga, focusing on posture practice and transitioning to deeper layers within, by the way of deep relaxation, breathing practices and concluding with a meditation practice. When you make an appointment, ask for a Beginners or Intermediate level class. If the group is a mix of beginners and regular practitioners best to request a beginners class. Classes are based on groups of 5 or more participants and are subject to availability. This package includes: 60 Minute Class held at the lodge for a minimum of 5 participants., Each additional participant up to 15 participants are $20 each, 2 Lodge Rooms for 1 night, (*Night before or after class) Class includes: 1) Asanas (Postures) 2) Yoga Nidra (Deep Relaxation) 3) Pranayama (Breathing Practices) 4) Dharana(concentration) /Dhyana (Meditation)

Sweet & Cozy Comfort Package
Further evidence that Lydia loves you! After your trip up the mountain, wind down with a roaring fire at the drop of a match and the delicious dessert that always leaves you wanting S'more! We'll leave all the fixins for classic S'mores and Hot Chocolate, along with Firestarter Logs to make building the blaze a bit easier in your cabin. This package includes: Marshmallows, Chocolate Bars, Graham Crackers, Hot Chocolate Mix, Firestarter Logs …and a few Lydia Surprises

You Say Its Your Birthday Package
Looking to recognize the birthday of somebody special? You're NEVER too old for a birthday party, and nothing says keep up the good work like a Birthday Cake and Balloons. Did I say old? I meant distinguished. All delivered to your cabin prior to your arrival. You show up, and it's there. Happy Birthday! This package includes a Birthday Cake, Balloons, a Happy Birthday Banner, Party Plates, Cups, Utensils, Napkins, and Birthday Candles.

Bouncy House Package
We've got the perfect way to kick off your stay with us, and while we can't give you wings, we can certainly put a little spring in your step. Rent our Bouncy House for the day or for your stay! Celebrating someone's birthday during your visit? We're here to help! Our Bouncy House package is the perfect compliment to our "You Say It's Your Birthday Package". Lydia's 13 x 13 Foot Inflatable Bouncy House has enough space to entertain several children at a time. Call us at (434) 985-6343 to rent Lydia's Bouncy House today! This package includes: Delivery to your unit, Inflating, and Pickup the next day.

Laid Back on Lydia Package
This fall and winter we'd like to take the opportunity to welcome you with some of our down-home, good ole country fun. Waste no time at your arrival, put down your bags, kick off your shoes, grab a meat skin and pour yourselves a cold one. Hold on we ain't done yet!! Spend the following day taking advantage of the cool weather activities at Massenutten Resort just minutes away. We reckon this package will satisfy the likes of everyone. This package includes: (1) 6 pack of beer, 1 Pkg of Meat skins, 2 Lydia Mountain Mugs, and 2 Lydia Mountain t-shirts.
Tour Package 1 – Lydia, Monti & Jeff
Take a walk into our nation's past and visit the home of Thomas Jefferson, author of the Declaration of Independence, third president of the United States, and founder of the University of Virginia. Monticello was a 5,000-acre plantation and is the only historic house in the U.S. on the United Nations' World Heritage List. We'll pick you up at your cabin door at 10:30 am. Call (434) 985-6343 to make your reservation today. Tour limited to 12 people, price includes transportation only. This package includes: 5 Hour Round-Trip, Reservations Required, Transportation only, 2 Person Minimum Required, Saturday tour leaves from Lydia's Scenic Overlook, and Weekday tour leaves from your cabin door.
Tour Package 2 – Lydia & The Grapes
Make your reservation today for a wonderful tour of 2 of Lydia's favorite Virginia wineries! We'll take you to Barboursville Vineyards & Ruins where you can sample 18 wines and receive a commemorative Barboursville wine glass. On the Barboursville grounds, you also have the option of visiting one of Virginia's Historic Landmarks, the "Historic Ruins" designed by Thomas Jefferson himself. Your vineyard tour concludes with the option of light refreshments at Early Mountain Winery where you can sample 9 wines. Call (434) 985-6343 to make your reservation today. The tour is limited to 12 people, tasting fees are not included. This package includes 5 Hour Round-Trip, Reservations Required, Transportation only, 2 Person Minimum Required, Tasting Fees not Included, Saturday tour leaves from Lydia's Scenic Overlook, and Weekday tour leaves from your cabin door.

Tour Package 3 – Luray Caverns
Take a ride with Lydia and prepare to be amazed. Luray Caverns is renowned as one of the world's most spectacular natural wonders. A subterranean wonderland of magic and majesty, still as marvelously beautiful as described in the headlines over a century ago. We'll pick you up at your cabin door at 10:30 am. Call (434) 985-6343 to make your reservation today. Tour limited to 12 people, price includes transportation only. This package includes: 5 Hour Round-Trip, Reservations Required, Transportation only, 2 Person Minimum Required, Saturday tour leaves from Lydia's Scenic Overlook, Weekday tour leaves from your cabin door

Tour Package 4 – Lydia Wedding Shuttle
Need a chauffeured set of wheels on your special day? Sit back and let Lydia drive! Our 12-passenger van is the perfect answer for shuttling you and your guests to and from wherever on your wedding day. Give us a call at (434) 985-6343 and we'll make it easy! This package includes: The Lydia Shuttle Van transportation for you and your chosen guests, Limited to 12 Passengers, *Rental must be in consecutive 2-hour increments.

Tour Package 5 – Take a Hike
Meet up at the Lydia Welcome center at the entrance to Lydia Mountain off of rt. 33. We guide parties of up to 3 people to the South River Falls hiking trail at Shenandoah's National Park. Your guide will take you on a scenic 2.6-mile hike (roundtrip) stopping at iconic locations for all the best views. With our experienced guides, we take you all the way to the base of the falls on a trail few people know about with a challenging hike on the way back. *Guests should be in good health condition and able to complete up to a 6 miles hike within a 3-hour time frame. Give us a call at (434) 985-6343 and we'll show you the way! This package includes: A 3.5-hour guided hike to Shenandoah Park's South RIver Falls, Limited to Groups of up to 4, Transportation from Lydia Mountain Welcome Center.